Photos from Morocco
المملكة المغربية




Photos from a 3 weeks trip in 2003


"ah the bretons, the berbers of France !
Welcome to Morocco! "
The full Arabic name al-Mamlaka al-Maġribiyya (المملكة المغربية) translates to 'The Western Kingdom'. The name 'Morocco' originates from the former Almoravid and Almohad capital, Marrakesh, which in Amazigh Berber language means 'Land of God'.
---
FES

View of (most) of the medina, which is so large, it's a maze !
---
MERZOUGA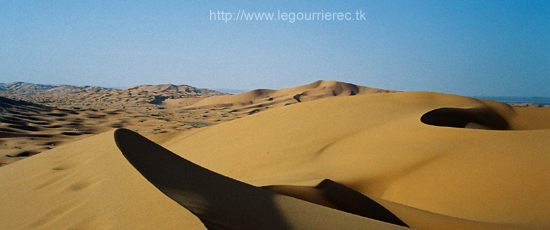 Dunes of the Sahara at sunrise (more deserts photos)
---
TODRA (GORGES)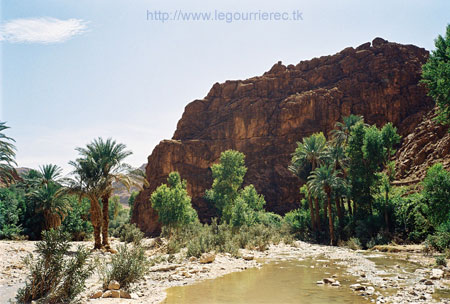 The gorges of Todra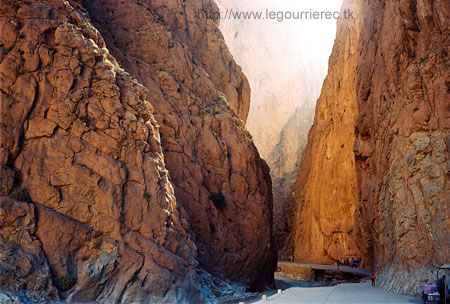 ---
DADES

Kasbah in the Dadès valley (Ait Charbi)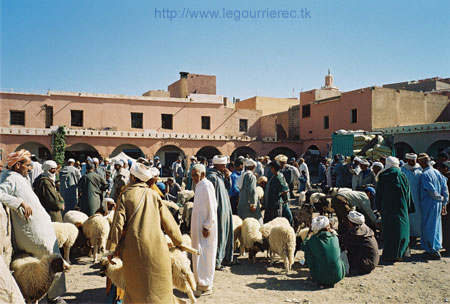 Market in the town of Boulmane du Dadès
---
AGDZ
Camping-Caravane Targui (excellent !!!)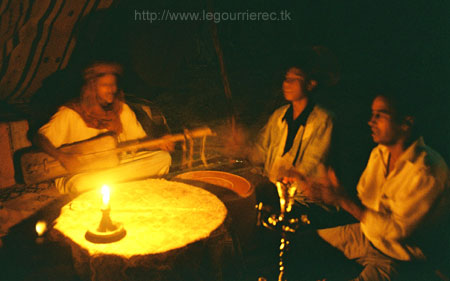 Berber music in the evening
(more photos by night, autres photos de nuit)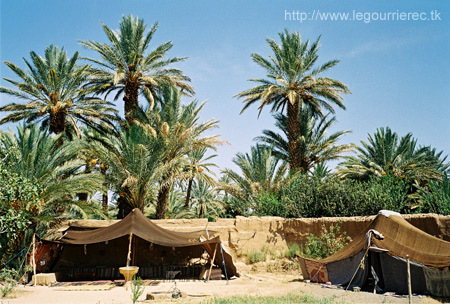 View of the camping amongst the palm trees
---
AIT-BENHADDOU

Kasbah
---
TIZI N'TICHKA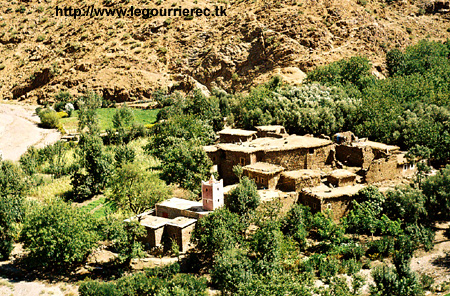 Small mountain village in the High Atlas along the road to the pass Tizi N'Tichka
(between Ouarzazate and Marrakesh)
---
MARRAKESH

Chaabi music (recording thanks to Daniel Keidar)
Evening on the main square Djemaa el-Fna (musicians, story tellers, food stalls, crowd of people...)
(more panoramic photos and more photos by night)
| | |
| --- | --- |
| Medersa Ali ben Yousseff (see a painting) | Palace 'La Bahia' |
---
ESSAOUIRA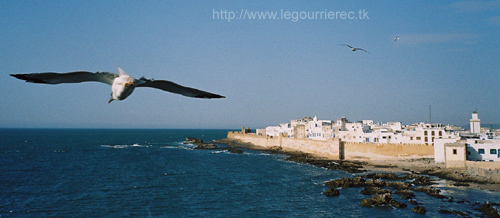 The wonderful walled city of Essaouira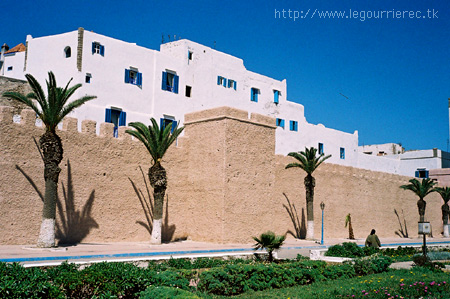 Essaouira : walls and white houses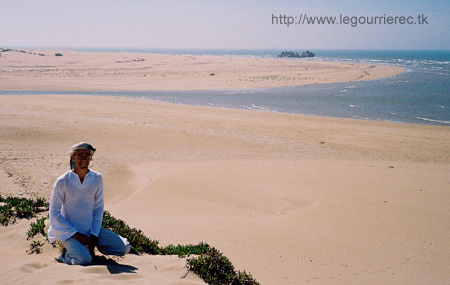 Just south of Essaouira, along the long beach
---
EL-JADIDA
| | |
| --- | --- |
| Portuguese-built citern | City walls and diving point for the locals |
---
CASABLANCA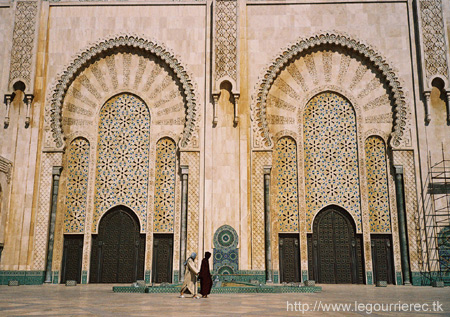 Doors of the Hassan II mosque

---
MEKNES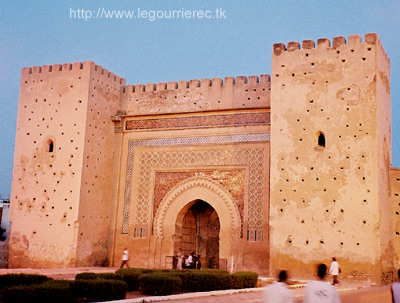 Bab el-Khemis (one of the city gate)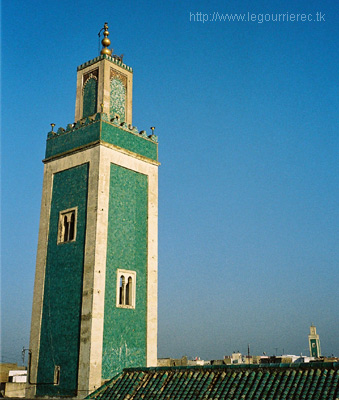 Minaret of the great mosque seenfrom the roof of the Medersa Bou Inania
---
VOLUBILIS (near Meknès)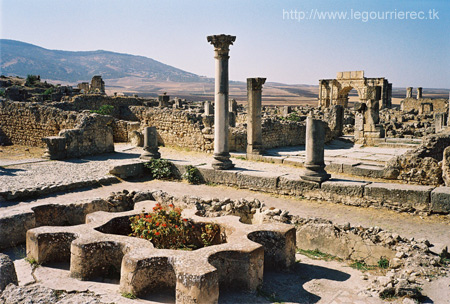 Roman ruins
---
CHEFCHAOUEN (CHAOUEN / XAOUEN)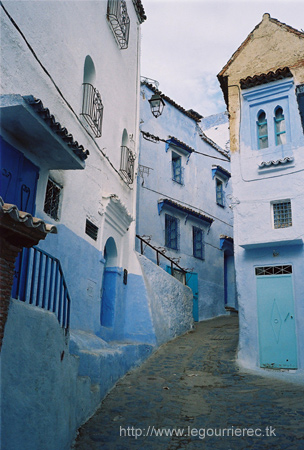 Street in the medina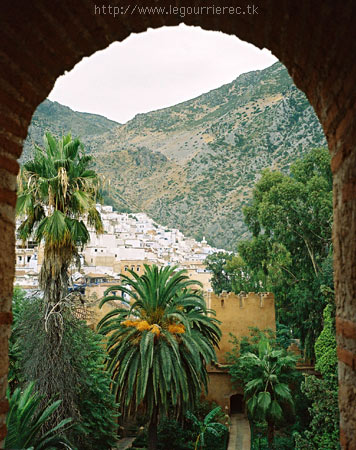 Kasbah: gardens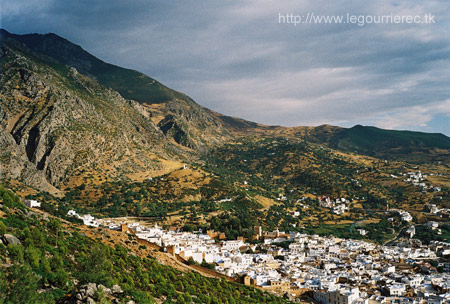 Chefchaouen
---
Colours of Moroccan cities


Chefchaouen (blue)

Marrakesh (red)

Meknès (ocre)


---
Doors
Chefchaouen
Chefchaouen
Marrakesh

Essaouira
(mellah, old jewish part of town)