Toasting traditions in Georgia in the Caucasus
---
In Kutaisi, I was travelling with a swedish guy I met in Turkey a week or so earlier. At the internet cafe, we met local guys who spoke english, and they invited us the next day for some sightseeing. We had a great day walking in the countryside, visiting some old Georgian churches. When we came back to Kutaisi in the evening, one of them invited us over to his parent's house. We were warmly welcomed, and they told us that "we will have a small dinner and taste the wine"....

The wine was siphoned off from a huge glass jar in the garage and soon a lot of dishes joined the two big jugs of wine on the table. A friend of the family, who spoke some english, joined us. He was the "tamada" : the toast-master. And as we enjoyed a great dinner of typical tasty georgian cuisine, the tamada stopped every 10 or 15 min to propose a toast.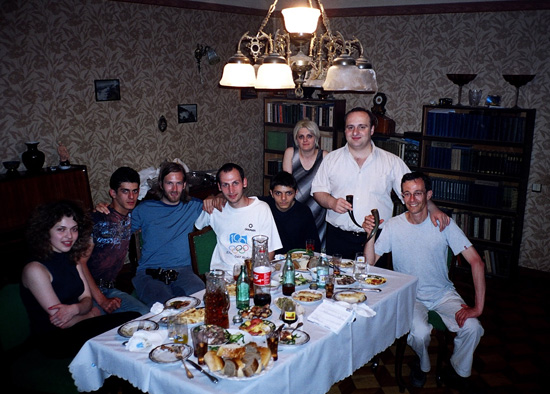 Dinner with a georgian family (the "tamada" is the man standing up, white shirt)
Toasts are typically offered to : fathers, mothers, brothers and sisters, grand-parents, ancestors, friends, kings, friendship, ... using glasses of different shapes (like the horns we have in hand) and the most important toast was to the grand-father of the family (a half-liter glass of wine, which the tamada downed in one go). The one georgian word you cannot forget after such a dinner is "gaumarjos" which means "victory" or in this context : Cheers !
see more photos from Georgia