Day out in Iran
---
During my first visit to Iran in 2001, I met Sahar and her family who were also visiting Isfahan, and when I travelled again in Iran in 2005, I went to visit them in Sharood. One day, the whole family went out for a picnic, with all the cousins, uncles and aunts. At 5am everyone met up, and the 4 cars travelled together to the hills north of Sharood.

We drove for a few hours across a rather dry landscape, and spent the day in the mountains, just at the beginning of the greener northern slopes. They had planned everything, from breakfast to lunch, pans and plates. The day went by, relaxing, walking around, eating great food.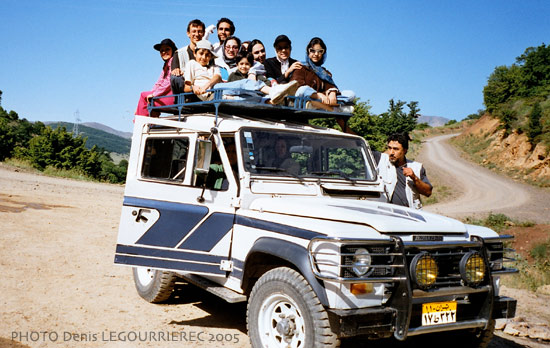 A photo of the 'expedition' to wash the dishes left the picnic place and arrived at the river. All the young people on top of the jeep, much fun on the bumpy unpaved road.
see more photos from Iran